If you're visiting Medellin Colombia, one of the best day trips you can do is visiting Guatape Colombia. This town boasts a huge rock called El Penol, which towers 656 feet above ground and has 650 steps that you can ascend to the summit. The view from the top is incredible and you can see many of the lakes surrounding the town and the lush countryside of Antoquia.
$30 Tour – Viajes Maxitours
If its your first time to Colombia, and you don't know Spanish it can be very intimidating to get out of the city and navigate to Guatape. Luckily there are some tour companies which take you there. After speaking to people and researching, I found many had vastly inflated prices with few amenities. However I ended up settling on https://www.viator.com/tours/Medellin/Tour-Guatape/d4563-67324P1 a tour run by Viajes Maxitours +573117885599
For just $30! You get Hotel Pickup/Drop-off, Breakfast, Bus Transportation, Lunch, a visit to 2 towns, a boat cruise, and opportunities to buy souvenirs at discounted rates!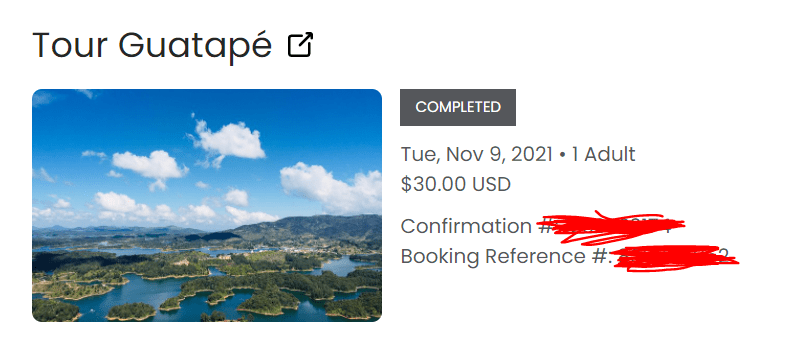 The Ride to Guatape and Breakfast
You will provide your hotel information at booking to Viajes Maxitours. About 6-12 hours after booking I got a message from Juliana to confirm pickup time and location. This is easiest through Whatsapp, so make sure you have a working account linked to your phone number. You can also call to confirm it to them. You can keep your luggage as a large charter bus will pick you up. It is comfortable but the road can be bumpy to Guatape Colombia.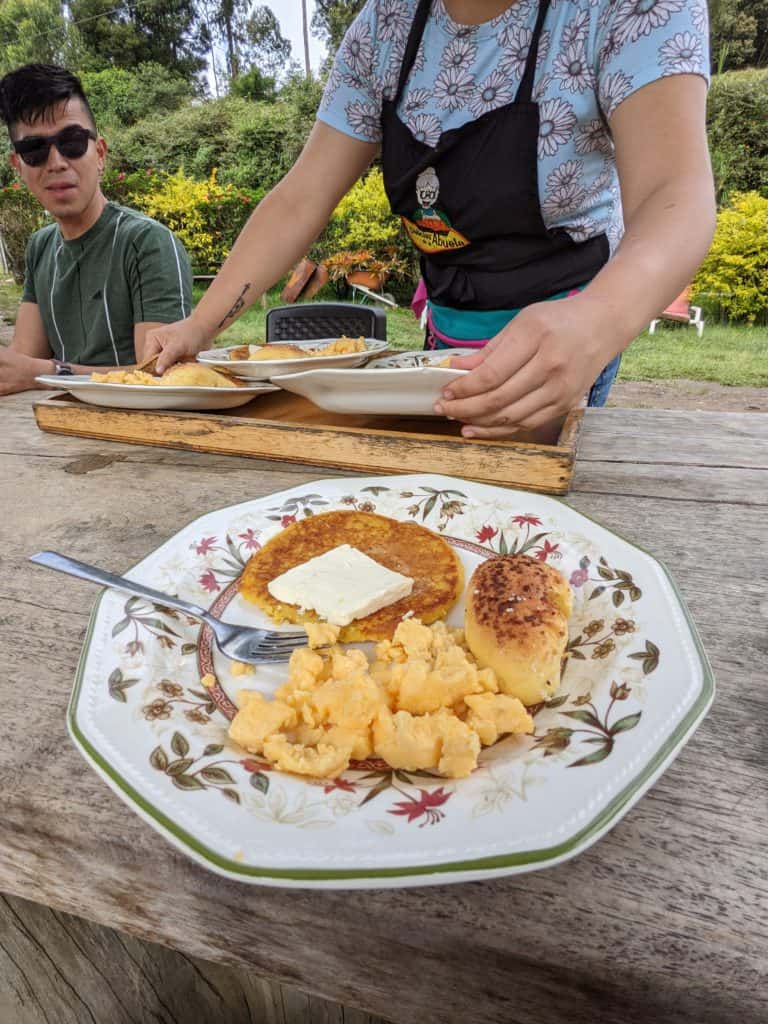 Town of El Penol
The Viajes Maxitours bus will bring you to El Penol, a town that features a statue called La Fenix De América , a symbol of the town coming back to life after it was flooded to construct a dam. You will also see Alcadia Cathedral constructed within a large rock (a fitting prelude to the rock you will see in Guatape)
Guatape Colombia
From here, you will meander down the valley until you reach the Guatape Rock, its best to go on a weekday as weekends can be crowded. There's a group of concessions and eateries before you get to the main entrance to pay the climbing fee. Next you ascend the steps and take in some gorgeous views of the lush countryside.
Réplica del Peñol
Next Viajes Maxitours will bring you to the replica town square of the former Penol which was flooded with the dam construction. You can stroll here and take some great photos from the balconies and souvenir shop. You will also get a filling lunch at the restaurant adjacent to the church.
Boat Cruise around Guatape Colombia & Penol
From this square, Viajes Maxitours will now take you down to the docks to board a boat where you will see one of Pablo Escobars villas, the lake where the old Penol village was, and a view of the Penol rock which we climbed earlier. This is a fantastic end to a very affordiable, divsere, fun and easy tour to Guatape Colombia!